One of the most popular housing arrangements for our students is to rent a room in a shared student flat. This will give you more freedom during your time studying with us and is perfect if you prefer an independent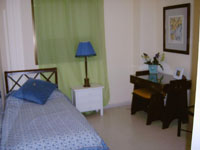 lifestyle and don't mind dealing with responsibilities such as shopping, cooking and cleaning. You'll have your private furnished room and bathroom, and shared access to living room and kitchen areas. This arrangement has the benefit of bringing you into contact with students from all over the globe who, like you, have come to study Spanish. You'll learn about other cultures and make new friends, which is always a rewarding experience.
We at AASS will make sure that your flat is within a reasonable distance from our schools and that the standard of your flat meets the basic requirements for student accommodation. Please keep in mind that shared flats are an economical solution and that although well equipped (i.e. cookers, refrigerator, complete bathroom, etc.) you cannot expect luxury standards in shared student flats.