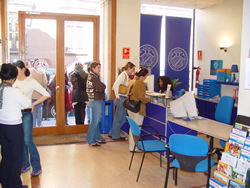 Being positioned right in the heart of the city is just one of the bonuses of the AASS Spanish school in Madrid. Other advantages include air conditioned and modern classrooms, free internet and wireless connection available and the classes are always kept small with a maximum of 9 students per class. The AASS Spanish school in Madrid prides itself on the fun and relaxed environment that it creates and maintains that the atmosphere helps the students to learn better and at a quicker pace. The average age of the students is between 18 and 32 years old. All of the Spanish teacher that teach our Spanish courses in Madrid have a long experience and are regularly on teaching seminars at the university of Madrid.
Facts: Madrid School
Year opened: 2001
Students per year: 1300
Max/Min. students: Max. students in July (150) / Min. December (100).
Classrooms: 11
Location: Historical centre of Madrid, near Puerta del Sol and two minutes walking from Gran Via
Facilities: Free Internet / Wireless Internet - Air-conditioned classrooms Courses offered: Standard Spanish Course, Intensive Spanish Course, One-2-One Spanish Course, DELE preparation Course.
Starting Dates: Standard and Intensive courses every Monday, One-2-One courses any time, DELE courses - see Dates.
Prices: see Prices.
Photos: Photo Tour of our Madrid school.
Madrid Info
Madrid is the capital of one of the world's most fascinating countries. There's so much to do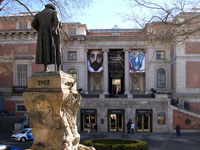 and see here that boredom is simply not a possibility. In Madrid you'll be able to enjoy a wide range of restaurants that offer traditional dishes found all over Spain. The city is famous for shopping; markets, department stores and exclusive boutiques abound to suit all tastes and budgets. Our students always enjoy the fun and excitement of exploring the city's nearly endless must-see places after classes. The Prado, the Thyssen-Bornemisza, the Royal Palace and the National Archaeological Museum are some of the most famous world-class museums that can be found here. Madrid is a mixture of century-old traditions and modernity, and it gets the mixture just right.
Why choose Madrid? Well, first for its cosmopolitan atmosphere. Then for its culture, its museums, theatres, concerts and cinemas. It also offers excellent connections to the rest of Spain. There are many other reasons why to choose to study a Spanish Course in Madrid so why not study in the capital and get to know the 'Real Madrid?'.
Facts about Madrid
Population size: 3,500,000 in Madrid city.
Weather: Average temperatures in Winter 4Cº / 39Fº, Summer 29Cº / 85Fº
Location: Middle of the Iberian Peninsula with easy access to all areas of Spain.
Surroundings: Mountains
Nightlife: There's always something happening; every hour of the day, every day of the week.
Cultural Interest: Well known for its museums with exclusive collections by Spain's best artists: Velazquez, Goya, Picasso, Miro...