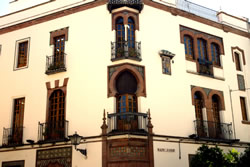 Our language school in Sevilla is located in the city centre in a historic building dating back to 1919. It was designed by Aníbal González, who is also the creator of the Plaza de España where scenes from the latest Star Wars movie were filmed. The school has 12 spacious classrooms equipped with air-conditioning and central heating. Its amenities include a multimedia classroom with free internet access and meeting rooms and a beautiful rooftop terrace where you can relax, take a nap or sunbathe while you study Spanish.
Facts: Sevilla School
Year opened: 2001
Students per year: 800
Max/Min. students: Max. students in April (90) / Min. students in June (35).
Classrooms: 12
Location: Santa Cruz neighbourhood (city centre) in a magnificent historic building.
Facilities: Large common room, internet facilities, library and rooftop terrace.
Courses offered: Standard Spanish Course, Intensive Spanish Course, One-2-One Spanish Course, DELE Preparation Course.
Starting Dates: Standard and Intensive courses every Monday, One-2-One courses any time, DELE courses - see Dates.
Prices: see Prices.
Photos: Photo Tour of our Sevilla School.
Sevilla Info
Sevilla played an important role in the discovery of America in 1492, and 500 years later still plays an important role in the Spanish economy. The city is located in the Southeast of Spain and has more than 700,000 inhabitants. Situated on the Guadalquivir River, its port played an essential role in the commerce between the Americas and Spain and has remained active to this day. Evidence of the city's glorious past can be seen everywhere; Sevilla breathes history, art and culture. It's the native city of painters like Velázquez and Murillo and is where the literary myth of Don Juan began. The World Exposition of 1992 reinvigorated the city and cemented its place as one of Spain's most modern and dynamic cities.
Sevilla offers a unique environment that makes it easy to enjoy life to its fullest and this is one of the many reasons whay so many students chooses to learn Spanish in Sevilla. A typical Sevillan tradition involves going from from one restaurant to another trying various delicious Spanish dishes and ending up at one the city's many tablaos (flamenco bars). La Feria de Abril and the Semana Santa are celebrations everyone should experience at least once in a lifetime.
Facts about Sevilla
Population size: 700,000 in Seville city.
Weather: Average temperatures Winter 14Cº / 59Fº, Summer 32Cº / 90Fº
Location: Capital of the southern province of Andalucia, about an hour from the coasts of Cadiz.
Surroundings: Flatlands
Nightlife: Sevillanos love going out for a tapas (traditional Spanish appetizers) and drinks; many interesting bars and restaurants are to be found.
Cultural Interest: Numerous monuments of great cultural and historical significance.