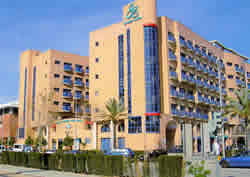 Valencia is one of Spain's most visited cities, and our school is perfectly positioned to enjoy the cultural appeal that attracts so many students each year. Located in the city centre, the school occupies one floor with 6 classrooms, a meeting area and a teachers' room. A magnificent park, which used to bed the river Turia, and the prestigious Museum of Arts and Sciences are some of the many beautiful attractions located near the school.
Facts: Valencia School
Year opened: 2002
Students per year: 2,500
Max/Min. students: Max students in July (25180) / Min. students in December (200).
Classrooms: 24
Facilities: Small cafeteria - Big garden in front of the school - Computer lab - Free Internet access - Wi-Fi (wireless access throughout the school) - Library and video room - Spacious common areas - Air conditioning and central heating
Location: In the university district, a few minutes walking distance from the beach.
Courses offered: Standard Spanish Course, Super Intensive Spanish Course, One-2-One Spanish Course.
Starting Dates: Standard courses every Monday, Intensive courses first Monday of every month, One-2-One courses any time.
Prices: see Prices.
Photos: Photo Tour of our Valencia school.
Valencia Info
Valencia, home to 900,000 Spaniards, is a cultural phenomenon. The city's many museums, the Royal monastery of Santa María and the Cathedral are a few of its must-see attractions. You'll also find incredible remains of ancient civilizations, from Phoenicians to Greeks and from Iberians to Romans.
Valencia is located in Eastern Spain and is the capital of the province by the same name. Spain's third-largest city, it enjoys a reputation for its love of parties and epicurean lifestyle.
The world famous Fallas festivities take place between March 12th and 19th. The climate is fantastic and the nightlife is one of the most entertaining in the Mediterranean. Do you need any more reasons do you need to choose a Spanish course in Valencia?
Facts about Valencia
Population size: 750,000 in Valencia city.
Weather: Average temperatures Winter 16Cº / 60Fº, Summer 26Cº / 78Fº
Location: Valencia is located in Eastern Spain, next to the Mediterranean Sea.
Surroundings: Beach
Nightlife: Exciting nightlife can be found near the beach and harbour areas of Valencia, especially during the warm months.
Cultural Interest: Best known for it huge and modern science museum. Also has some interesting historical monuments.