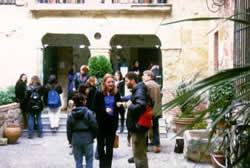 Attending the AASS Spanish school in Salamanca is like stepping back in time as the school was actually once a convent; the city of Salamanca itself is full of beautiful 13th century buildings. The school is positioned right in the heart of the city centre and is a short stroll away from the main square, the Plaza Mayor. There are 30 spacious classrooms, a lecture room, a computer room with free internet connection, student lounge and an outside patio area. The beauty of the AASS Spanish school in Salamanca is its perfect blend of historical culture with the modern amenities of today's world.
Facts: Salamanca School
Year opened: 1989
Students per year: 4500
Max/Min. students: Max. students in July (750) / Min. students in December (200).
Classrooms: 30
Location: Within the historic centre, about 5 minutes walking distance from the Plaza Mayor, Salamanca's main square.
Facilities: Lecture room - Computer lab - Free internet - Wireless internet in the building (Wi-Fi) - Common lounge area - Beautiful central patio - Spacious sporting areas
Courses offered: Standard Spanish Course, Super Intensive Spanish Course, One-2-One Spanish Course.
Starting Dates: Standard courses every Monday, Intensive courses first Monday of every month, One-2-One courses any time.
Prices: See Prices.
Photos: Photo Tour of our Salamanca school.
Salamanca Info
Salamanca is home to 180,000 inhabitants and offers all the advantages of a big city with the intimacy of a village. The city, located in Southwest Castilla y Leon, played an important role in the evolution and history of the Spanish language, reason why students from around the world choose to study Spanish there. The renowned university (established in 1175) is at the core of the city and students can easily access all areas of interest on foot.
This historical city is surrounded by many beautiful lakes and mountains. You'll be especially lucky if your visit coincides with the 'Lunes de Aguas' (Water Monday; which takes place on the Monday after Easter), when the citizens of Salamanca dress up in carnival costumes and follow a procession that leads to the river Tormes. Salamanca is undoubtedly one of the best places to learn a very pure form of Spanish in a fascinating context.
Facts about Salamanca
Population size: 180,000 in Salamanca city.
Weather: Average temperatures Winter 5Cº / 41Fº, Summer 27Cº / 82Fº
Location: Central part of Spain, between Madrid and the Portuguese coast.
Surroundings: Flatlands with nearby mountains.
Nightlife: University town with a young and vibrant atmosphere and great nightlife.
Cultural Interest: The cultural attractions in Salamanca are its many historic buildings and museums.