The AASS Spanish school in Granada is located just a short stroll away from the city's centre and the historical Palace of the Alhambra. The classrooms are all modern with all the technology required to teach Spanish. The schools also boasts a well stocked library full of Spanish literature which is at the student's disposal. There is a free internet connection available and all the teachers are fully qualified and Spanish speaking with plenty of experience in teaching Spanish to international students.
Facts: Granada School
Year opened: 2003
Students per year: 700
Max/Min. students: Max. students in August (3000) / Min. students in Decemberr (25).
Classrooms: 10
Facilities: Modern classrooms with excellent technical equipment -Free access to Internet - Library with Spanish literature for students.
Location: Only 100 m away from the cathedral and the historic centre.
Courses offered: Standard Spanish course, Super Intensive Spanish course, One-2-One Spanish course, Teenage Spanish course.
Starting Dates: Standard courses every Monday, Super Intensive courses first Monday of every month, One-2-One courses any time, Teenage courses - see Dates.
Prices: see Prices.
Photos: Photo Tour of our Granada school.
Granada Info
The Moors first crossed the strait of Gibraltar in 711 to settle in what would later become one of the most beautiful cities in the world. Their heritage has left its splendid mark on this culturally diverse city. The old districts in the Albaicín and the Alhambra are truly impressive places, as well as the city's Renaissance jewels, such as the breathtaking cathedral.
Such is the richness of Granada, an ancient city that rose as the capital of the Moorish occupancy in Spain and developed its own unique atmosphere mixed with the natural beauty of its surroundings. The town is located at the foot of the Sierra Nevada Mountains at the convergence of the Darro and Genil rivers.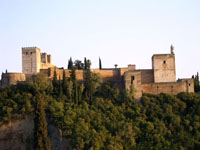 Granada is the capital of the province by the same name, and is part of the community of Andalucia. One of the most important festivities takes place on January 2nd, celebrating the surrender of the Moors to the Catholic King. Granada is an ideal place to study Spanish while experiencing the best of Spain's delightful culture.
Facts about Granada
Population size: 300,000 in Granada city.
Weather: Average temperatures Winter 6Cº / 42Fº, Summer 28Cº / 83Fº
Location: South part of the Iberian Peninsula in the province of Andalucia, located within a 2 hour drive of the coast. The beautiful Sierra Nevada ski resort is within 40 minutes of the city.
Surroundings: The Sierra Nevada mountain range.
Nightlife: A university town, Granada's bars and clubs are always busy.
Cultural Interest: Famous for its many monuments dating back to the Moorish occupancy, including the amazing Alhambra castle-fortress.