The AASS Spanish school of Alicante is perfectly located in the centre of the city on the Paseo de la Explanada.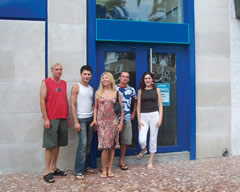 The well-lit and spacious classrooms with their views of the sea and harbour make for a comfortable learning environment, and the up-to-date audio-visual and multimedia facilities, internet access, library, comfortable common areas and other mod-cons make for an excellent place to both study or pass time in a relaxing manner.
Facts: Alicante School
Year opened: 2005
Students per year: 850
Max/Min. students: Max. students in June, July and August (150) / Min. in December and January (60)
Classrooms: 8
Facilities: Library, common area and computers with free internet access.
Location: Right in the centre of Alicante on the Paseo de la Explanada.
Spanish language courses offered: Standard Spanish course, Intensive Spanish course, One-2-One Spanish course.
Starting dates: Standard and Intensive courses every Monday, One-2-One courses any day.
Prices: See Prices for full information.
Photos: Photo Tour of our language school in Alicante.
Alicante Info
The city of Alicante has a wonderful climate throughout the year and has a number of stunning, award winning beaches near to and within the centre of the city.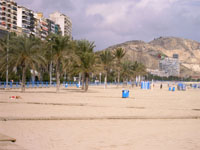 Alicante is popular with tourists and has a population of more than 500,000 citizens. The city has retained its traditions however, and the San Juan Festivities and the 'Moors and Christians' celebrations remain important events on the calendar. The Spanish spoken here has no particular accent and thus Alicante is the perfect location for learning a neutral kind of Spanish.
Why chose Alicante? For the great climate, for the Mediterranean lifestyle, for the beaches, for the colour and festivities, for the nightlife around the harbor. Do you need any more reasons to learn Spanish in Alicante?
Facts about Alicante
Population size: 300,000 in Alicante city.
Weather: Average temperatures Winter 16Cº / 60Fº, Summer 26Cº / 78Fº
Location: East part of the Iberian Peninsula next to the Mediterranean Sea.
Surroundings: Beach
Nightlife: Good nightlife in the harbour area and the historic centre, mainly during the summer months.
Cultural Interest: Some, but not many monuments and museums.