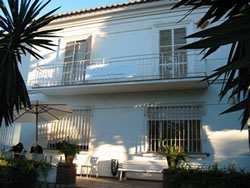 The AASS Spanish school in Malaga has been teaching since the 1980's and is ideally located within close proximity of the city's centre. The wonderful Picasso museum is just a short stroll from the school as is the beach. The AASS Spanish school in Malaga is housed in a new building and has 8 classrooms, a multi-function room with all the technical equipment required to teach. There is also a small library available for students to use. Prior to students being placed into a class they take an assessment test to ascertain their level of Spanish; this then ensures they are placed into the correct class.
Facts: Malaga School
Year opened: 1986
Students per year: 400
Max/Min. students: August (90) / December (10)
Classrooms: 8
Facilities: Multi-function rooms - Audiovisual equipment - Library.
Location: Near to the centre of Malaga, just a few steps from Plaza de la Merced and Malagueta beach.
Courses offered: Standard Spanish course, One-2-One Spanish course, Teenage Spanish course and DELE preparation course.
Starting Dates: Standard courses every Monday, One-2-One courses any time, Teenage courses - see Dates
Prices: see Prices for full information
Photos: Photo Tour of our Malaga school.
Málaga Info
For the past ten years the Costa del Sol has enjoyed economic growth and increasing attention thanks to its popularity as a tourist destination. Malaga is quickly becoming one of the foremost mercantile centers in the Iberian Peninsula, and is famous for its Andalusian traditions and Moorish roots (traces of which are evident in monuments such as the Alcazaba castle on mount Gibralfaro and the magnificient cathedral. Not only popular for its monuments, Malaga is a sure bet for those interested in entertainment. The city is also known as the birth-place of Pablo Picasso and the popular actor Antonio Banderas.
If possible, try to coincide your visit with the celebration of the famous 'Feria de Malaga' which takes place in August and is an unforgettable event where thousands of people celebrates in the streets of the centre of Malaga during the day and during the night in the special Feria Square outside of the centre where many of the Spanish language schools in Málaga also are represented.
Facts about Málaga
Population size: 600,000 in Malaga city.
Weather: Average temperatures Winter 16Cº / 60Fº, Summer 27Cº / 82Fº
Location: South of Spain in the province of Andalucia, on the Mediterranean coast.
Surroundings: Beach, nearby mountains.
Nightlife: Excellent nightlife for students of all ages. In Summer months, the nearby disco's in the tourist areas of Costa del Sol are very popular.
Cultural Interest: The newly opened Picasso museum is the city's best museum. Many interesting monuments from the Moorish occupancy.